WELCOME
GIGS!
It's been a crazy few weeks with lots of gigs! We'd like to thank Ed Barnett for sitting in for the vacationing Skippy and playing drums for us. We had a blast!

We are excited to announce that we will be playing the A&M Car Show and Reunion on October1. I'm sure that plenty of our fans ran the quarter mile on the A&M with their ride back in the day! If you have a car to show, come on down, or just come as a spectator!

Til then
Billy

---
CREEM MAGAZINE
We grew up reading CREEM magazine. The articles, STARS CARS, and CREEM PROFILES with their tongue-in-cheek humor were a lot of fun. CREEM announced a contest to create CREEM PROFILES and we won!
Click here to see The Allens CREEM PROFILE.

Stay tuned for more Allens's news!
Billy

NEXT SHOW
A&M CAR SHOW AND REUNION


October 1, 2023
Event runs from 8:00 a.m. - 5:00 p.m.
Music, bar, food, 50/50 raffle
$10 per car; $5 spectator
Allens on 12:00 noon
Marlboro Fish and Game
CHECK BACK FOR NEW DATES
We're booking now - check back or keep in touch with Facebook.
---
UPCOMING SHOWS
all shows - click here
POSTER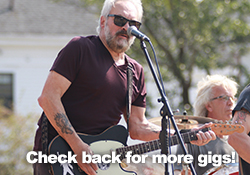 For the latest Allens' poster, click here
---
CHECK IT OUT LIST
FALL 2023
CHECK IT OUT LIST

PAT HOGAN FOR MAYOR
We played Pat Hogan's mayoral race kickoff event at Union Common in August! Check out his website and VOTE PAT!

HACKNEY DIAMONDS - THE NEW ROLLING STONES ALBUM
I don't know about you, but we are excited to hear the new album. Angry is a great single!