WELCOME
ALLENS AT 35!
It's hard to believe that we are celebrating our 35th anniversary as The Allens. Over the years we have had many members but the core of Frank, Skippy, and Billy has been a constant throughout.

We've had many special guests over the years and we have enjoyed every show that we've done! Venues have come and gone; some friends and fans are sadly no longer with us; but we will keep on rocking!

We're looking for new gigs and hope to have a surprise pop-up gig to celebrate our 35th - stay tuned!

---
Frank has been featured in the new Marlborough mural on Maple Street! It could possibly be Eric in there, too, but they have him playing a guitar and not a bass so who knows!

Til then
Billy

NEXT SHOW
A&M CAR SHOW AND REUNION


October 1, 2023
Event runs from 8:00 a.m. - 5:00 p.m.
Music, bar, food, 50/50 raffle
$10 per car; $5 spectator
Allens on 12:00 noon
Marlboro Fish and Game
CHECK BACK FOR NEW DATES
We're booking now - check back or keep in touch with Facebook.
---
UPCOMING SHOWS
all shows - click here
POSTER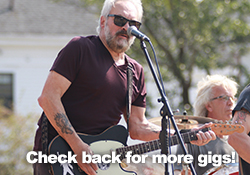 For the latest Allens' poster, click here
---
CHECK IT OUT LIST
FALL 2023
CHECK IT OUT LIST

HACKNEY DIAMONDS - THE NEW ROLLING STONES ALBUM
It's crazy but who would have thought in 2023 that we would see a new Beatles song at number one in the charts as well as a new Rolling Stones album at numer one in the album charts! It's pretty great!

THE STRUTS - PRETTY VICIOUS
Another great album from The Struts! Check it out!

GASLIGHT ANTHEM has a new album that's fantastic! Check it out!

JESSE DAYTON has a new single that's amazing - God Ain't Makin No More of It.