WELCOME
2020 NEWS!
Bolton Street Tavern was a great show on January 17. Thanks to everyone who braved the 13° weather! Apparently the drink coasters with The Allens logo were a big hit! There weren't any left by the end of the night! We'll have more at the next gig, which is March 6 back at BST.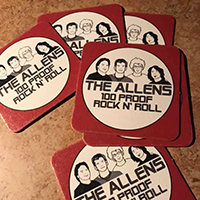 In addition to our gigs on March 6 and April 26 at Bolton Street Tavern, we have two benefit shows coming up in April and May. On Saturday, April 18, we will be joining JAB and Rumor Hazit at the Hudson Portuguese Club to raise money for our friend, Dickie Guild. Then on Sunday, May 17, we will be playing at the Fish and Game in Marlborough for Ray-Ray's Memorial Bike Run. Please join us!



Allens 30th Anniversary T-Shirt


Our new 30th anniversary design t-shirt is almost sold out (two Large and one Double XL) - we will have them at the gigs and also available online - see our Merch page - click here.

Until then
Billy



NEXT SHOW
BOLTON STREET TAVERN
Friday, March 6, 2020
9:30 p.m. - 1:00 a.m.
587 Bolton Street
Marlborough
CHECK BACK FOR NEW DATES
We're booking now - check back or keep in touch with Facebook.
---
UPCOMING SHOWS
all shows - click here
POSTER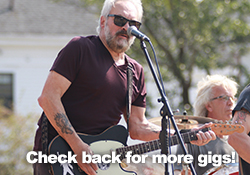 For the latest Allens' poster, click here
---
CHECK IT OUT LIST



2020
Here's what we're listening to:

1. Jesse Dayton's new album Mixtape Vol 1 is really awesome with some clever covers of favorite songs. He's played with Willie Nelson, Johnny Cash, Waylon Jennings, and the Supersuckers just to name a few. Check it out here.

2. beabadoobee - this girl is amazing. Great songs - check out She Plays Bass

3. Squirrel Flower, aka, Ella Williams is getting rave reviews for her debut album. Check out the video for Headlights, featuring Billy's Fiat 124 Spider! Click here