WELCOME



The June show was a blast! We had a great time and hope all of you who came out did too!

We'll be playing the Andrew's Helpful Hands Benefit on July 29 at the Best Western Royal Plaza Trade Center. The event is from 4:00 p.m. - 12:00 a.m. Multi-band event and our friends in Usual Suspects will be playing as well as Itchy Onion, Young Other, and headlining from Las Vegas, Elvis Monroe. We'll be on at 7:30 p.m. with Usual Suspects on right after us.

The event benefits Andrew's Helpful Hands which provides support to families with young children fighting cancer. To read all about it and order tickets, click here.

Stay tuned for a possible surprise summer gig!

Until then....

Billy


NEXT SHOW
Andrew's Helpful Hands Benefit
Best Western
Royal Plaza Trade Center
Marlborough
Saturday July 29
With Usual Suspects, Itchy Onion, Young Other, and Elvis Monroe.
Tix: $40 in advance/ $50 day of show
VIP tix $100 in advance/ $120 day of show
Click here for info and to order tix online.

---
UPCOMING SHOWS
SUMMER GIGS
Check back for more information!
all shows - click here
POSTER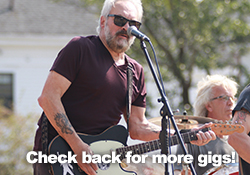 For the latest Allens' poster, click here
---
CHECK IT OUT LIST
1. Bash & Pop - their new album, Anything Can Happen, is great!


2. Great Shepard Fairey poster available - Dark Wave. We need to save the environment before all of our national parks are gone.