WELCOME
2020 NEWS!
Bolton Street Tavern was a great show on January 17. Thanks to everyone who braved the 13° weather! Apparently the drink coasters with The Allens logo were a big hit! There weren't any left by the end of the night! We'll have more at the next gig, which is March 6 back at BST.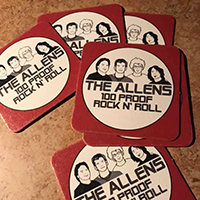 Allens 30th Anniversary T-Shirt


Our new 30th anniversary design t-shirt is almost sold out (two Large and one Double XL) - we will have them at the gigs and also available online - see our Merch page - click here.

Until then
Billy



NEXT SHOW
BOLTON STREET TAVERN
Friday, March 6, 2020
9:30 p.m. - 1:00 a.m.
587 Bolton Street
Marlborough
CHECK BACK FOR NEW DATES
We're booking now - check back or keep in touch with Facebook.
---
UPCOMING SHOWS
all shows - click here
POSTER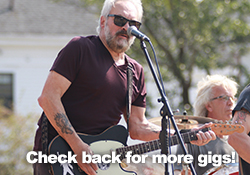 For the latest Allens' poster, click here
---
CHECK IT OUT LIST



2019
Here's what we're listening to:

1. Jesse Malin just released his new album, Sunset Kids.

2. Barns Courtney - the new album, 404, is just amazing. Check out Billy's schmooze picture with Barns on our Facebook page.

3. Michael Monroe's new album One Man Gang is just awesome. We may have to cover one of these!