WELCOME
HAPPY 34TH!
We are celebrating our 30th anniversary all year!

We are excited to announce that we will be playing the A&M Car Show and Reunion on October1. I'm sure that plenty of our fans ran the quarter mile on the A&M with their ride back in the day! If you have a car to show, come on down, or just come as a spectator!

Til then
Billy

---
CREEM MAGAZINE
We grew up reading CREEM magazine. The articles, STARS CARS, and CREEM PROFILES with their tongue-in-cheek humor were a lot of fun. CREEM announced a contest to create CREEM PROFILES and we won!
Click here to see The Allens CREEM PROFILE.

Stay tuned for more Allens's news!
Billy

NEXT SHOW
A&M CAR SHOW
AND REUNION

October 1, 2023
Event runs from 8:00 a.m. - 5:00 p.m.
Music, bar, food, 50/50 raffle
$20 per car; $10 spectator
Allens on 12:00 noon
Marlboro Fish and Game
CHECK BACK FOR NEW DATES
We're booking now - check back or keep in touch with Facebook.
---
UPCOMING SHOWS
all shows - click here
POSTER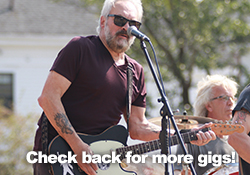 For the latest Allens' poster, click here
---
CHECK IT OUT LIST
SPRING 2023
CHECK IT OUT LIST



Måneskin

: | playing TD Garden. Great article about their tour in NME - click here.

Inhaler from Ireland. The singer/ guitarist is Bono's son. Great new album! Click here!

Nervous Eaters! Their new album Monsters and Angels is fabulous! Click here!