WELCOME



AND A NEW CHAPTER BEGINS
Thanks to everyone who braved the cold to come to our first show of the new year at Dante's at Firefly's. Thanks to Tom on sound, Tim Leavitt, Sean Spicer, Matt Bolieau and everyone who took pictures. It was a fun time.

We'll be back at Firefly's on June 1st! Hope to see you then!

Billy

MUSINGS ON THE CLOSING OF A FAVORITE VENUE
Our Night Before Thanksgiving show at Speakers Nightclub was their last-ever opening. For a variety of reasons, Speakers closed their doors that night. It was great to play to a full house, and we'd like to thank Angry Tony, Erik Ristuben, Kevin Marshall, and Steve Carter for jamming with us one last time on the Speakers' stage. It was a little surreal looking around the room as we were playing and seeing price tags on the TVs, bar mirrors, everything!

It's always sad when a live music venue closes. I think back to the days of playing at The Rat, The Channel , Bunratty's, Sir Morgan's Cove, the Hitchin' Post, American Lobster, Chefia's, Options, Manny's, and more that I'd need to see the back of a vintage Allens' tee to know! Even the Prospector - used to have live music but never upgraded their sprinklers so they can't anymore.

But who is going to take up the slack? Yes, there are some other venues around but Speakers was a music club - no sports, just live music. And with a capacity of 250 to boot. No other venue around here holds that many people. We are going to explore our options but at the end of the day, we want to play primarily in Marlborough. We will have to see what the future holds and we will certainly let you know where we'll be next. Maybe we need to open our own bar...

Until the next time....

Billy


NEXT SHOW
DANTE'S AT FIREFLY'S
Friday, June 1, 2018
9:00 p.m. - 12:00 a.m.
Firefly's
350 East Main Street
Marlborough

NO COVER!

---
UPCOMING SHOWS
all shows - click here
POSTER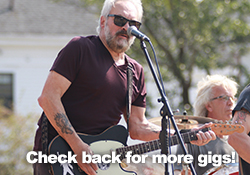 For the latest Allens' poster, click here
---
CHECK IT OUT LIST



1. The Strypes new album | Spitting Image - check it out!

2. The Red Button - Now It's All This | Cool band I just learned of from Keith Arsenault. Great stuff!

3. Happy 50th Anniversary to Orange Amplifiers!

4. Donate to Strawberry Field | Great charity on the grounds of Strawberry Field - you know the song!